Rochester Landmarks & Public Art
This collection is an inventory of landmark sculptures, monuments, and memorials in and around Rochester, NY. It is intended to be a resource for our incredible arts community as well as pay respect to the great artists in the Rochester region. You may enjoy browsing, for entertainment, or using it as a research tool. I've tried to make it work both ways. There are several hundred entries on the web site now and more are being added monthly.
Landmarks
Public Art
Big Trees
What Is Public Art?
"The term 'public art,' properly, refers to works of art, in any media, that have been planned and executed with the specific intention of being sited or staged in the public domain, usually outside and accessible to all. The term is especially significant within the art world, amongst curators, commissioning bodies, and creators of public art, to whom it signifies a particular working practice, often with implications of site specificity, community involvement, and collaboration" (From WikiPedia).
---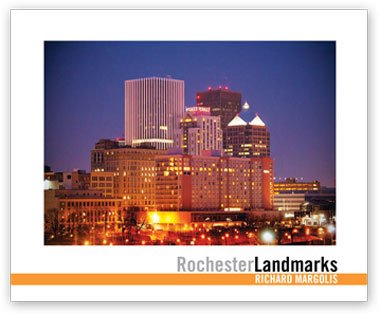 Buy the book online at www.RichardMargolis.com
or come visit the studio to pick one up...
250 North Goodman Street
Rochester, New York 14607
Or you can purchase from these local retailers: